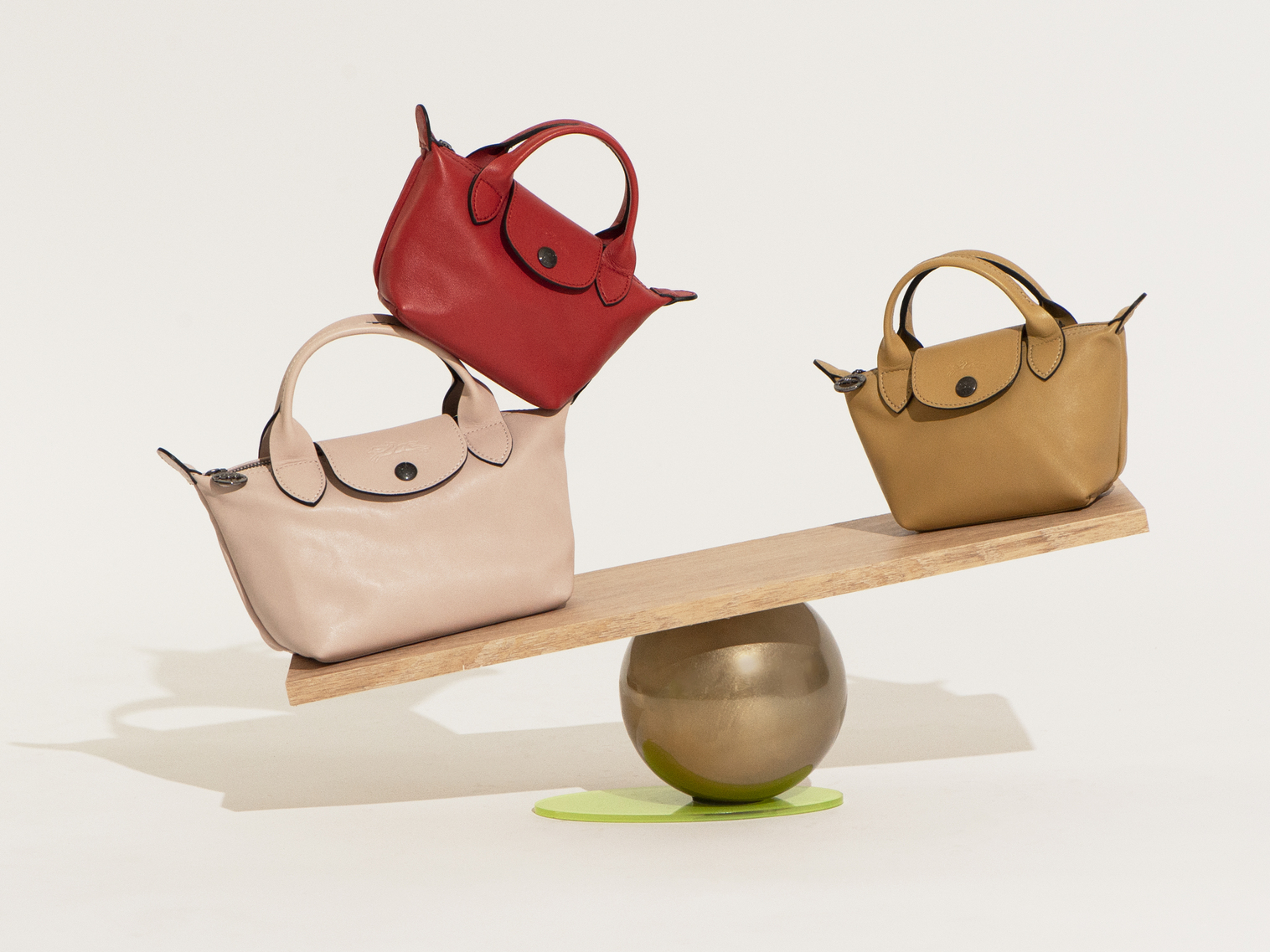 Style (11/22/21) – BusinessWorld Online
Longchamp holiday collection
THIS HOLIDAY season, glitter and glamor are the buzzwords of the moment, and the trend is reflected at Longchamp, which has concocted a range of gifts for the fashionista. First, the Brioche, a trendy flap bag with its iconic square clasp and sliding metal chain so that the bag can be worn over the shoulder or across the body. It comes in a jewel, an evening version covered in black sequins with matching dark silver hardware, while a slightly larger size is crafted in quilted metallic silver goatskin for daytime or nighttime sophistication. Then there's an emerald green and white iteration of the lambskin Brioche with graphic zigzag quilting; the iconic Le Pliage Cuir shoulder bag, which comes in shiny silver crocodile-print leather with a removable shoulder chain instead of the regular shoulder strap; and the iconic Roseau, revisited as a small shoulder bag in snow-white crocodile-style calfskin and accessorized with an oversized silver toggle.
Careline launches new skin acne drying lotion
There's a new, quick and easy way to get rid of pimples – Careline Skin Acne Drying Lotion. It's formulated with calamine to prevent and dry out pimples, and sulfur to exfoliate, unclog pores and remove dead skin cells. It also contains salicylic acid to prevent inflammation. Careline Skin Acne Drying Lotion (P275) is available at the official Careline store in Lazada (bit.ly/CarelineLazada) and Shopee (bit.ly/CarelineShopeeStore) and in major supermarkets, grocery stores and department stores across the country.
Lacoste and Peanuts launch a collaboration
TWO icons come together for a brand new collaboration: the characters from the Peanuts comic strip are in the spotlight on iconic Lacoste pieces for the Fall-Winter 2021-2022 collection. This season, Lacoste and Peanuts are teaming up for the third time to offer a complete range for men, women and children where ready-to-wear, accessories, shoes and leather goods are adorned with Peanuts characters. Sometimes sportswear, sometimes city, the silhouettes feature fanciful flat colors or an accumulation of bubbles specifically for Lacoste L! Ve creations. The Lacoste x Peanuts collection is now available in stores and on lacoste.com.ph.
Ortigas Malls launches its loyalty card
ORTIGAS Malls has developed the Ortigas Community Card which allows shopping center visitors and shoppers to unlock exclusive privileges among its member merchants in Greenhills, Tiendesitas, Estancia and Industria. The card offers rewards when visitors shop and dine at their favorite merchants. Benefits include free parking, a discounted car wash service, free use of ShopBox and shopping fees, as well as free use of the Greenhills Customer Lounge. To apply for the Ortigas Community Card, download the Ortigas Malls mobile app from the App Store or Google Play. Click on membership and community card to register. Show digital card and ID number to take advantage of discounts and benefits.
Special Online Live Selling Event
THIS Christmas, TM has a special live selling event that allows people to enjoy the TM FunPasko Online Tiangge. To join the TM FunPasko Online Tiangge, sellers just need to register and upload a 30-60 second video from TM Tambayan's website and their public Tiktok or Twitter pages with the hashtags: #TMDiskartengFunPasko #TMOnlineTiangge. The top 10 sellers with the best videos will win P50,000 worth of TM FunRaket cash support and a free online slot machine for sale live at Lazada or Shopee on November 26-27. Unique gifts, rewards and vouchers await buyers at the TM FunPasko Online event as well. Online businesswomen Glenda Victorio of Brilliant Skin and Paula Terese of Babe Formula will be providing online selling tips, and there will be special appearances (and personal buy recommendations) by TM Ambassadors Alden Richards, Seth Fedelin and Andrea Brillantes. To access the full mechanics and learn more about the TM FunPasko Online Tiangge, visit: https://www.tmtambayan.ph/funpasko/diskarte.html.
Swarovski for the holidays
UNDER Creative Director Giovanna Engelbert, Swarovski takes clients on an elegant, fun and comfortable vacation journey. Swarovski offers a selection of pieces to adorn and adore. Holiday essentials include: Stella, the star-shaped jewelry family plays with proportion; Constella, crystal constellations set on thin metal bars in unexpected combinations are as delicate as stardust in this family of jewelry; seasonal ornaments and symbols to decorate rooms with glittering hanging ornaments and figurines; Swarovski collectible figures like Kris Bear and Mo & Ricci take on sweet, festive shapes for 2021, each a miniature symbol of holiday cheer and lightness.
Montblanc launches the special Elizabeth Taylor edition
MONTBLANC Muses combines the deep heritage of the Maison's writing culture with the stories of strong and intrepid women who have left their mark on the world. Actress and activist Elizabeth Taylor (1932 – 2011) is the last 'muse' to be celebrated with a special edition writing instrument, having invented modern fame and being widely regarded as one of the most iconic women and most influential of the 20e century. The overall design of the new Montblanc Muses Elizabeth Taylor Special Edition is inspired by the aesthetics of the 1950s and 1960s, when Ms. Taylor reached her prime as an actress in Hollywood. The shape evokes an original Montblanc writing instrument from the same period. Crafted using a special lacquering technique, the cap and body are covered in a dark purple marbling lacquer as a tribute to Elizabeth Taylor's gorgeous eyes and the star's favorite color. The special edition includes a fountain pen, rollerball and ballpoint pen. Montblanc is available at Rustans Makati, Rustans Shangri-La, Rustan's Cebu, Greenbelt 5, City of Dreams and Resorts World Manila. For more information visit Rustans.com.
Easy Spirit Fall 2021 Collection
The COMFORT shoe brand, Easy Spirit, is back with another collection, a line of sneakers, sandals and more with features and benefits. The Easy Spirit collection of easy to put on and take off sneakers and casual styles includes the Traveltime # 1 Clog (P3.650), a bestseller for over 15 years, which is now available in new colors and prints. Perfect for walking and light activities, orthotic fit and supportive, Traveltime's design absorbs shock for added comfort. Then there is the Travelclog Slip-On Mules (P2 250), now available in tie-dye denim and floral prints. For something new, slip into the comfort of the Traciee Slip-On Sandals (P3,450). Traciee features additional heel-to-toe cushioning, a molded EVA outsole for superior traction and fashionable side seams. The Gift Slip-On Flat Shoes (3,950) and BeStrong Walking Shoes (3,950) have cushioned insoles and arch support for all-day comfort. The Arlie Slip-On Casual Shoes (P3,950) are another versatile shoe for everyday ease. As well as being one of Easy Spirit's most comfortable and ultralight pairs, Arlie has a flexible design to combat fatigue, or complete a look with Meadow Slip-On Sandals (P3,650). Then there are the Romy Eco Walking Shoes (P4 250), with components made from recycled materials for a more sustainable footprint. Inspired by the hit Traveltime clog, the Tech Eco Slip-On (P3,950) sneakers feature a 20% recycled knit upper that hugs the foot for a custom fit. There are the Takeknit Eco Clogs (P3,650), on the other hand, and the Key Eco Casual Sneakers (P3,950), slip-ons made from 100% recycled materials. These and other items from Easy Spirit's latest collection are now available from Zalora and Lazada.
Belén lighting in the city of Araneta
A WEEK after lighting its iconic 100-foot Christmas tree, Araneta City lit its giant belen November 18. Located at Gen. MacArthur Ave, the traditional belen – crèche – has been installed every Christmas by the city of Araneta since 1991. Father Ronnie Santos, parish priest of Our Lady of Perpetual Help in Brgy. Socorro, and Father Diogo D'Souza led the blessing of belen. The belen lighting is launching a number of special Christmas events and activities in the town of Araneta under the theme "Believe in the magic of Christmas". Just across the belen display is the Parolan Christmas bazaar where you can find quality and affordable Christmas decorations. It is open until December 31 from 4 a.m. to 9 p.m. Meanwhile, at Times Square Park, one can shop at a wide variety of food stalls and dine al fresco with the giant Christmas tree in view from 1 p.m. to 11 p.m. daily. You'll find more food choices at Manhattan Row from 1:00 p.m. to 11:00 p.m. daily, or spend time at the New Frontier Theater (NFT) the Second from 10:00 a.m. to 9:00 p.m. for an alternative dining experience. Let yourself be rocked by JC Laborte at Times Square Food Park from 5 p.m. to 10 p.m. and by Duke at the green door of the Smart Araneta Coliseum from 6 p.m. to 9 p.m. Children and children at heart have the chance to meet Santa Claus every Sunday, from November 28, from 3 p.m. to 7 p.m. And attend the Great Fireworks display every Saturday from November 27 to January 1.
Manila's Greener Christmas at Resorts World
Along with the usual Christmas decor, Resorts World Manila (RWM) launched its brand new environmental facility, GEO (Green Earth One) in the Garden Wing. Inside GEO are ornaments made from recycled materials, emphasizing the importance of using resources responsibly and sustainably. RWM kicked off its annual holiday celebrations, Grand Fiesta Manila, with the "Thrill Lighting" Christmas ceremony bearing the theme of Repurposing Our World. The unifying theme of this year's holiday celebrations is represented by a prominent 30-foot-tall Christmas tree in the heart of The Plaza, Newport Mall. The same tree has been used in previous years with many of the same adornments, made more meaningful by the creative use of repurposed materials. RWM's in-house team refreshed and brightened up adornments from previous years – giving old stars new shine with pieces of mirror panels discarded from the old Maxims Hotel lobby and adding crystal beads from old curtains with Christmas balls. Working with corporate fashion brand and circular fashion advocate, Ucycle, Inc., RWM is repurposing their corporate wear to add to their holiday decorations. The gold and red flowers that adorn the centerpiece tree are designed and created from fabrics sourced from Thrillmakers' uniforms, stage costumes and hotel linens. At the base of the massive tree are 12 large bags made of the same materials. At the end of the season, these upcycled bags will be filled with gifts to offer to partner communities. To learn more about Resorts World Manila's Grande Fiesta Manila and the Repurpose Our World initiative, visit www.rwmanila.com or follow RWM's official social media accounts, @rwmanila on Facebook and Twitter, and @resortsworldmanila on Instagram.