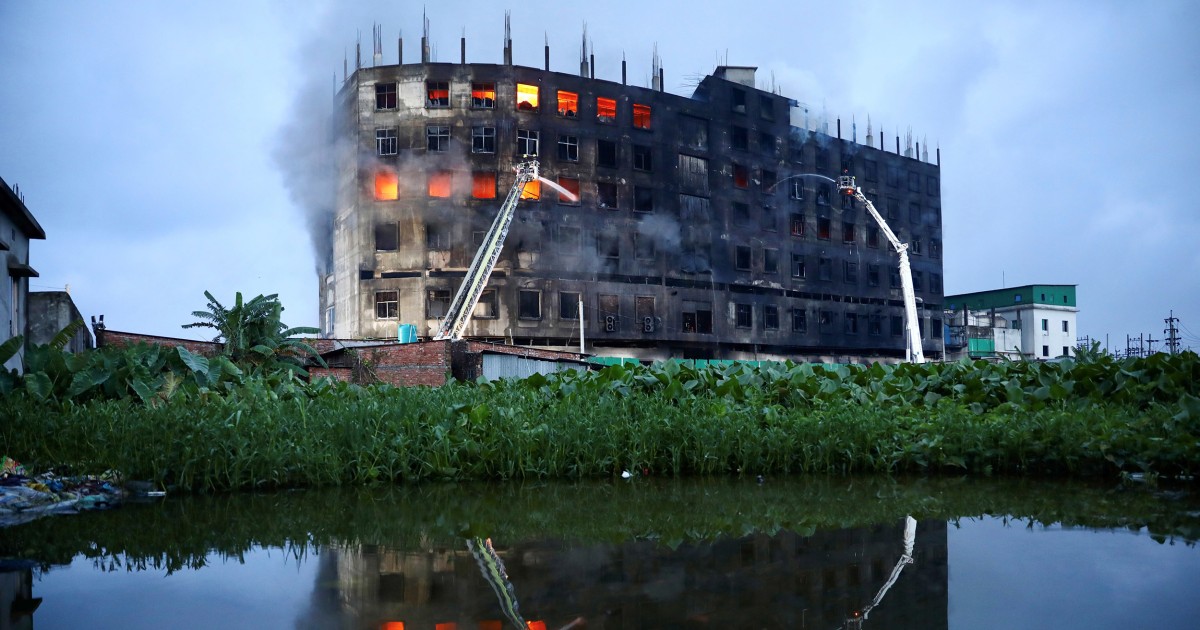 Dozens dead after food factory fire in Bangladesh
At least 49 people were reportedly killed after a fire ripped through a food and drink factory just outside Bangladesh's capital Dhaka, local TV stations reported on Friday.
At least 20 others were injured after Thursday night's blaze, Reuters reported. Firefighters were still battling the blaze on Friday afternoon. It was not known how many people were stuck inside.
The government ordered an investigation into the cause of the fire.
Rescuers were trying to retrieve the bodies of the factory, which was locked from the inside when the blaze started, The Associated Press reported, citing local television station Ekattor TV. He added that 17 bodies have been found so far.
Distraught relatives arrived at the scene, according to local media, and some clashed with police, the AP reported.
"It is not known how many workers are trapped. We are collecting information," Narayanganj district administrator Mustain Billah told Reuters.
Reuters reported that some of the injured people jumped from the second and third floors of the building.
Factories in Bangladesh have a history of deadly fires and other tragedies, which often occur due to non-compliance with safety regulations. Corruption and lax rules have resulted in many deaths in the country, where such tragedies are considered common.
In February 2019, a fire that ravaged a densely populated area of ​​a 400-year-old neighborhood in Dhaka killed at least 70 people. The area was cramped with apartments, shops and warehouses.
Another fire spread through a garment factory on the outskirts of Dhaka in 2012, killing at least 112 people who were trapped behind its locked doors.
Less than six months later, a garment factory complex collapsed, killing more than 1,100 people.
Western brands that operate large factories in the country and employ low-paid workers are increasingly under pressure to improve conditions in factories.
Reuters and The Associated Press contributed.