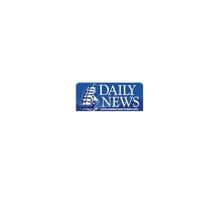 As I See It: Capturing a German Souvenir During WWII | Opinion
People tell me they like to read about my experiences in Europe during WWII. Things are so vivid in my mind and I love telling stories, so here is another one.
The whole experience, being on the Rhine, at the level crossings was such a big thing for us. As I mentioned before, crossing the Channel to invade France was huge.
Then crossing the Rhine was another thing. Right after Easter Day 1945 we took off for Germany.
Of course, we got into our Caterpillar, firing a gun without knowing where we were. We didn't know what to expect now that we were in Germany. We were always on edge.
We didn't know things were getting better; we had no communication, no paper to read. As we found out, the main German leaders could see the writing on the wall, but they could not convince Hitler how serious the situation was. Talking to him like that was a betrayal and they could be shot.
Shortly after leaving the Rhine, we arrived in a large city in Germany called Frankfurt. As we entered Frankfurt, the city had just been captured and the buildings were in ruins from the bombing. Many of those we passed were still burning. It was a pretty sad site to see.
Soon we came to a stop where there were salt mines. Seeing the slaves who worked them – probably Polish soldiers – was heartbreaking. They were so malnourished, it was so sad to see – they hardly looked human. Hope we have been a savior because of this too.
In the end, I guess there were other mines but we were at the main one. It was like stepping into a treasure chest. The Germans stored things there which they took to other countries and held captive. Art, ingots, clothing and all kinds of equipment used in war were stored there. There was even talk that there was a German aircraft factory at the bottom of this mine.
We thought the Germans were going to try to destroy it, so we were there to protect it, waiting for the Germans to drop bombs on it – to ruin it. As it turned out, it did not happen.
After a few days a few of my gunners decided to come in. If we had been at the front of the mine, there would have been elevators that would have taken you down deep; being located at the back of the mine, we had to use the ladders.
Of course, we were prohibited from entering either direction. Now I'm no daredevil but couldn't help but go with them. There were about five or six of us.
We got to the opening of this well and climbed down on wooden ladders attached to the wall – we only had our flashlights to guide us. We walked down about 10 feet at a time.
At each landing, we branched off a bit and went down a ladder right next to it, continuing our journey. Each landing was at the same depth and had veins spouting out, we don't know how far they would go.
After several floors, we decided not to go down to the bottom, which was several hundred meters deep. We decided to stop and take a look around.
We went down to one of these veins and started exploring. Now we didn't want to stray too far from that ladder, but near us there were piles of German Air Force clothing.
We saw fur lined jackets and pants and boots and things like that that the Air Force used. We decided to bring some of these jackets back with us.
We each wrapped a jacket around our waist and in our arms we carried two more. We started to climb the ladder and after a while we got so hot we dropped a jacket and then went on and repeated again.
By the time we got to the top we all only had one jacket around our waists. Thank goodness we didn't get caught; we were able to get out without any problem.
Our Caterpillar had a storage area that held our gym bags. In that bag we had extra clothes, especially clothes to wear in case we got gassed.
Thank goodness we never had to use it. But we had room in our duffle bag for the jackets and luckily I got mine all the way to the United States after the war.
My mother's brother, Wilfred Turcotte, lived near our home in Newburyport and worked at Badger Farms Dairy. He was in a milk truck and badly needed a warm jacket, so I gave it to him. He wore it this winter. If I had kept that jacket, today it would be worth quite a bit of money – but I gave it up.
I didn't have a lot of memories of the war, but I had this jacket.
So this was our first big experience in Germany meeting this mine and I will share more experiences next time.
Bob "Boots" Chouinard lives in Salisbury.