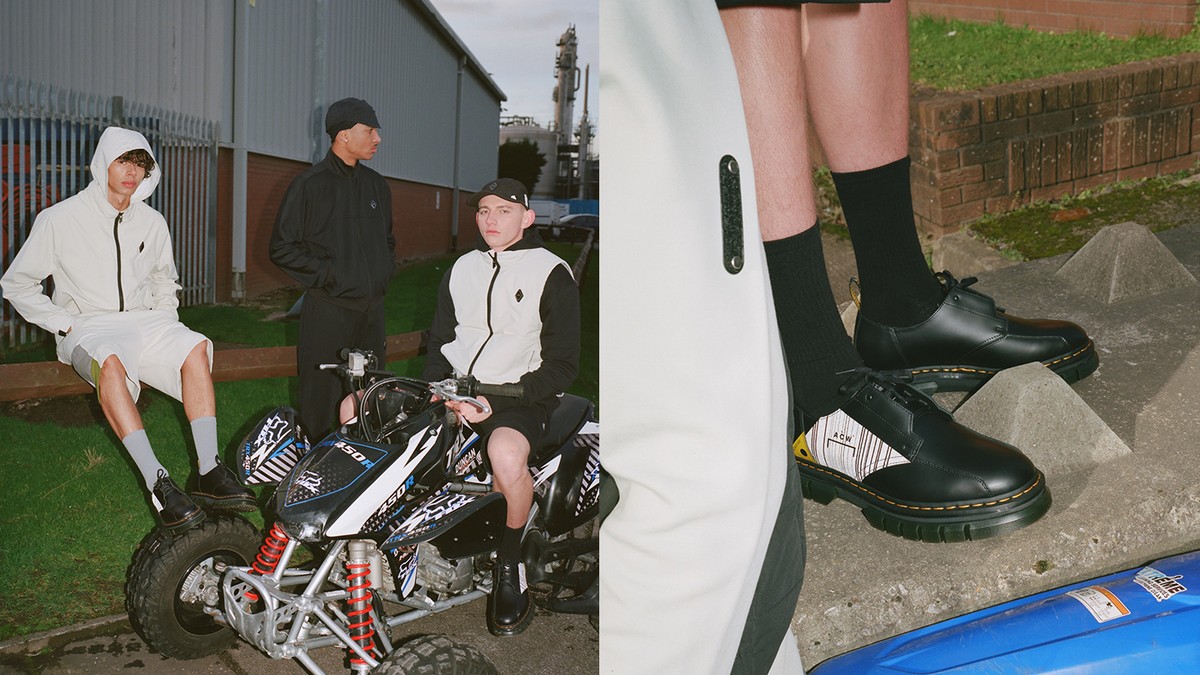 An interview with Samuel Ross about A-COLD-WALL* x Dr Martens
Scowling youths and grunts from a dirt bike: an image of Britain that Samuel Ross and Darren McKoy know well. It's this frame – common in many parts of the UK, though rarely featured in fashion – that informs the latest footwear collaboration from creative director A-COLD-WALL* and Dr Martens Design and Product Lead. The partnership, which began in 2020, resumes here with the same architectural codes that characterized its first 1460 boot.
There is also a renewed point of reference: inherent in the heritage of each brand, the working-class subculture was implicit in the creation of the duo. Samuel grew up in Northamptonshire where Dr Martens' original factory is still based. Trained in product design, he followed an unorthodox journey to become one of Britain's most acclaimed fashion designers. His stint as Off-White's first intern—poached personally by Virgil—is testament to his knack for collaboration that propelled even the most classic designs, like a Converse Chuck 70, into the realm of performance wear at the helm. test of time. His compatriot, Darren, hails from Sheffield and followed an equally atypical educational path, trained in retail marketing, followed by successful tenures at Adidas and The North Face. Since 2015, he's added to the company's history of made-in-England footwear, brokering successful collaborations with Raf Simons and Marc Jacobs for the brand's 60th anniversary while keeping his foot in a line of street antics – from punk to mountain bike culture. .
Teased on Instagram, their collaboration, which includes a design of boots and shoes, drops online in a password-protected version. Apart from basic details, information on the offer is scarce. The campaign film ends with the hushed sounds of "D-Double-E"Street Fighter Riddiminviting a more contemporary subculture to join Dr. Martens' audience. Here, the creatives behind the release discuss it.
What can you tell us about this new offer?
Samuel: We were interested [in] how the heritage of Dr. Martens – and the sturdiness of the shoe's midsole – could be integrated into a story of intensive outdoor activities, which relates to the context of where we shot: an area industrial in Manchester. It was this idea of ​​liminal space across Britain – an unknown place, which represents the country itself. It's impossible to pull Dr. Martens and A-COLD-WALL* away from a celebration of working-class environments and materials. We wanted to tie this in with the history of engineering and machinery, down to the filming location.
Darren, how did this partnership come about?
Darren: We've always admired Sam's work. And there are direct synergies between Sam's background and his interest in industrial design and Dr. Martens. We have also known each other for a while. We thought Sam would bring a fresh perspective to connect with consumers around the world and in the UK.
Samuel: Yes, there is a good local to global perspective of this dynamic. The local part is deeply emotional. I was passing Dr. Martens' factory on my way to school. I remember seeing Art Comes First waiting at the train station when I was a teenager, thinking, 'Where are these people going?'. They probably took the train from London to Wellingborough and then took a local bus to Wollaston to DM headquarters. DM was a portal to the world growing up. Of course, there's a lot of respect in leaning on a British culture star like Dr Martens.

None of you have a typical fashion resume. How do your professional backgrounds translate into this project?
Samuel: I've been obsessed with designing clothes since I was young. My first placement was at a streetwear store in Northamptonshire called Styles of London. I was a shop boy when I was 12 or 13, running back and forth in warehouses, engaged with the brands of the day – New Era 59Fifty, Artful Dodger. Around 15, I started selling fake streetwear. You know, Evisu jeans straight out of a truck, Nikes and Adidas. We always knew where to find counterfeit shoes – in a tower at the Hemmingwell estate in Wellingborough. There has always been this fascination with style. It wasn't even fashion – what the fuck is fashion?!
Then I went into graphic design, art, product design, ran a small streetwear brand in Leicestershire. I had been involved in British street culture for at least a decade before working with Virgil, which was more about bridging the macro image.
Darren: You can almost copy and paste that for me. I started working in a store called Hip in Leeds for Everton Campbell – a forerunner of independent retail in the UK. It's a similar path: just an obsession with clothes and shoes, and really, culture and lifestyle. Being surrounded by musicians who came in and bought at the store, went to certain concerts. I thought, 'How can I apply this with theoretical or practical skills?' and found a course in Leeds. At Adidas, I was the one taking those skills and applying them. That kind of leads to where I am now.
Darren, how do you like working on projects like this while maintaining the legacy of Dr. Martens?
Darren: We always pay tribute. It's something we talk to our people about and why we work with Sam. He starts with the key aspects of DNA and moves them forward through constructs. My team's challenge is to make sure they don't forget the brand plan. So if it's the icons – like the 1460 or the 1461 – we won't play with it too much. But when we create new concepts like this, it's about maintaining the aesthetic through key features while allowing Sam to contribute.
Samuel: That's a good answer because – and that's why I mentioned respect – Darren understands the fundamentals of branding. You treat the brand the same way Apple treats its brand. I understand that there are certain Dr. Martens styles that should never be touched. At the same time, I understand that the soul of a collaboration is to perfectly ignite the new alongside the legacy. We both operate through 12-14 collaborations per year; the two companies thrive on working together.

You seem like good friends. Is it thanks to this collaboration that you met or…?
Samuel: Serendipity, really. We were part of this era of streetwear before streetwear really found waves. You know, Darren knows Ace who was one of the main members of A-COLD-WALL* when it started. It's just a real friendship over time.
Darren: It's funny, even before the pandemic – both teams were in Japan – we literally walked into a restaurant. Sam and I sat and talked for about three hours. Completely random. And then we continued to see each other at certain parties.
Samuel: The first time we met, we were at Nigo's, and then the next time, a totally different trio. I was with the Readymade guys in the club, just raving.
By working together, was there anything you learned from each other?
Darren: We challenge each other. Sam helps us think differently in terms of applications and treatments.
Samuel: For my part, I learned to distill the brand. Understand that a micro change is actually just as important as a macro. Sometimes it's not about trying to modernize the engine, it's about refining. There is also this common culture between A-COLD-WALL* and Dr. Martens. The only way I can tell is that it's very forward, on the nose and British. The partnership knows what it wants. It's rare. There are often glorious discussions when you embark on a collaboration, and it's very interesting to see how it then materializes in email form.
Darren, you mentioned some of the techniques Samuel offered your team. Could you maybe talk about that, Samuel.
Samuel: It varies. If you look at the line of shoes that we developed, where we used eyelets and rivets, we kind of evolved how an eyelet works. What is the concept of an eyestay as soon as you remove the eyelets and the lacing system? Darren's team is really willing to reduce tooling and investment, and I think that's why this collaboration worked. I can talk about the inset; the foam padding that sits between two leather skins; the total refitting of the tannery. We played with it a lot. In the end, it comes down to a point of view.
Darren: It's about creating a new space, isn't it? We have other partners with whom we also work, but I think that here, it's more modest.
Is there a person in mind for this specific collaboration?
Samuel: It's today's generation. Fashion should reflect the era in which it exists. If you look back, it's a documentary process. This amounts to the amplification of the visual language. You know, there's the local tooling, the construction, the way different lights bounce off different coatings on leather hides. But it's about the visual value of how we dress, what we grew up on, and how young people dress now; what it means to be a young working-class Brit. It is a beautiful product, which is objectively a luxury product. But it's not about luxury.

You can sign up to receive updates on the release of the new A-COLD-WALL* and Dr Marten collaboration here. Follow iD on instagram and ICT Tac to learn more about fashion.
---
Credits
All images courtesy of Dr Martens