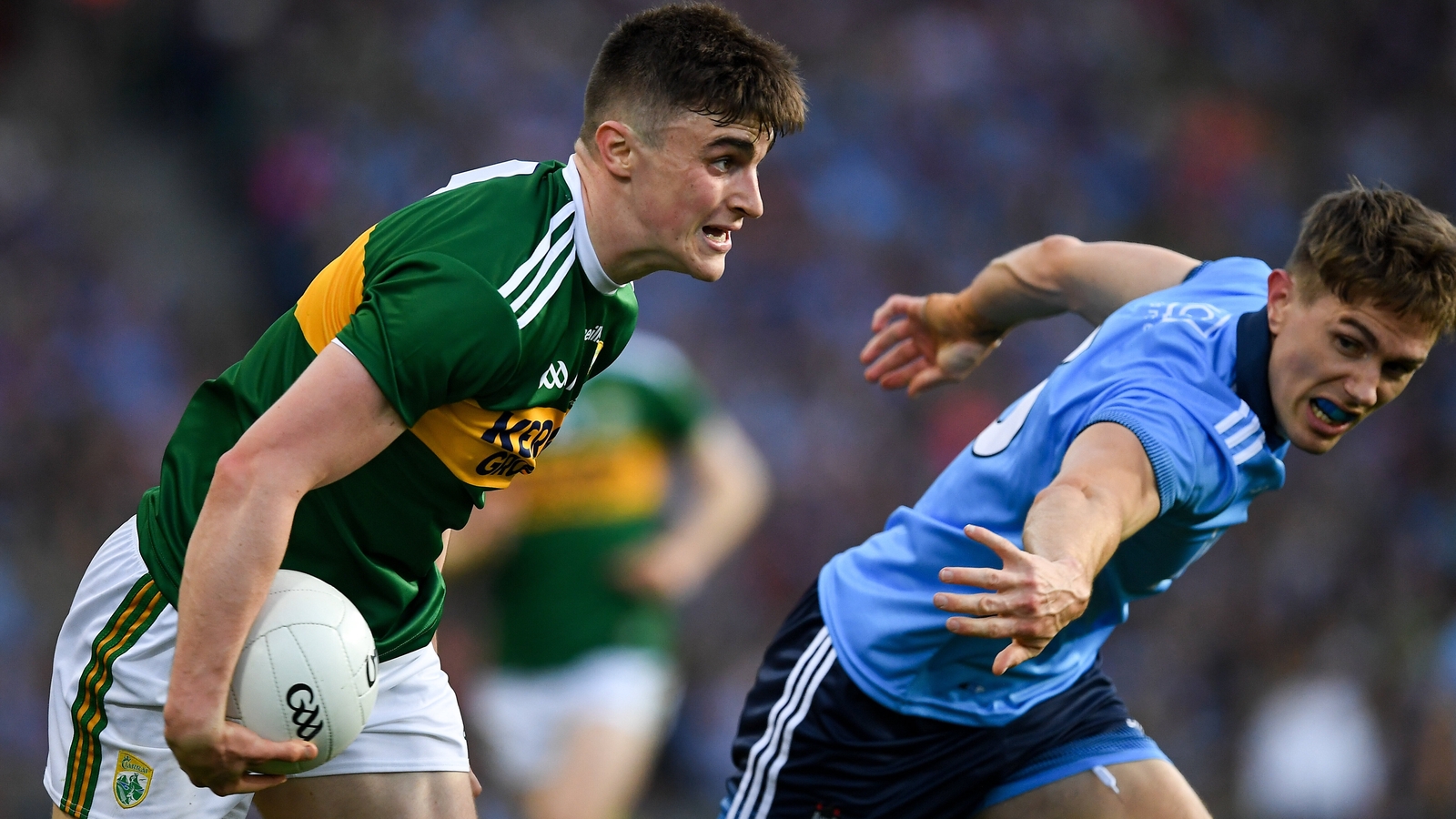 All on the line for the men of Munster
It's been three years since Dublin and Kerry last met on the big stage, in that 2019 All-Ireland Final, and according to Jack O'Connor, Kerry's players can't wait to make it on to their big names. rivals ever since.
They were supposed to meet in the 2020 Championship behind closed doors, but Kerry shockingly messed up against Cork in a downpour from Páirc Uí Chaoimh. They were absolutely destined to collide in the 2021 Knockout Championship – but then they both spoiled the same weekend, allowing Mayo and Tyrone, who neither initially imagined remotely, to progress to the decision maker.
No such hiccups in 2022. There was no Mark Keane lurking to derail the schedule this time. The long-awaited clash can now happen.
Getting a reading from either side based on their Championship run so far is a desperate undertaking. Progress on the treatment table may be more relevant.
After much speculation, the Dublin squad was released yesterday, without Con O'Callaghan and James McCarthy to start, with rumors spreading that the former wasn't even included in Matchday 26. The pair had left the comfortable but slightly disappointing quarter. -final victory against Cork. After the Dubs fought their way through Leinster, the last eight games saw a return to a calmer pace.
O'Callaghan's reintroduction after Dublin's alarming league campaign has been widely touted as the trigger for their return to Leinster Championship form. The Dubs, led by superstar Cuala, scored five goals in a brutal and surreal first half against Kildare.
Dessie Farrell dodged the question about the nature of her injury after the Cork game. The injury was initially reported as a hamstring issue, but The Star reported this week that O'Callaghan suffered a "hairline fracture", with the latter ruling out his involvement. Unless the team named Saturday was a ruse, he won't feature today. It would be a gigantic loss before the biggest game of their season.
David Clifford, meanwhile, looked only semi-fit in the quarter-finals – and was injured again in the opening minutes – despite surviving the encounter and scoring the only goal in the game. match.
Most of the pundits, unsure of who to pick this weekend, have it covered, suggesting the outcome will depend on the availability and fitness of the two big Cs in the respective forward rows.
The game is seismic for Kerry, in particular. Darragh Ó Sé didn't exactly try hard to ease the pressure in his Irish Times column this week, writing that Kerry's defeat would be "catastrophic".
Kerry haven't beaten Dublin in the Championship since they suffered the ultimate humiliation in the famous 'surprised earwigs' match of 2009 – Ó Sé's last campaign for Kerry, in this case. Since then, the balance of power has changed dramatically, with Dublin winning five out of five in the 2010s. That's enough losses to continue, according to Darragh. It's zero consolation that most of the games in question were classics or near-classics – with the exception of 2015's dreary and moody Decider.
Looking forward to an All-Ireland yesterday, Kerry abruptly got rid of Peter Keane last fall and Jack O'Connor was sent for. Jacko was still rumored to sign with Kildare for another term – which he later denied – but he was quick to accept the call from home. The three-time All Ireland winning manager was back for a third stint, a decade after stepping away for the second time.
O'Connor presided over the merry mauling in 2009 but is said to be still miffed by All Ireland's fateful final loss in 2011, the ultimate sliding door moment in the modern Dublin-Kerry rivalry.
With 10 minutes remaining, Kerry appeared to be handling this game as they had in the All-Ireland final against Cork two years earlier, leading by four points, keeping possession and slowing time. They were wrapping up, sealing a fifth All-Ireland title in eight years. Then Kerry's pet peeve Kevin McManaman stepped in and the relationship took off in a different direction over the next decade.
Kerry started the year in a bad mood and their swaggering demolition of Mayo in the league final, combined with Dublin's strung form at the time, once again installed them as undisputed favorites for All-Ireland.
Since then, talk around Kerry has consisted of 30% game talk and 70% O'Connor complaining about the long intervals between games. The system is changing next year, but the Kerry boss is keen to poke fun at the current format when it comes out, again calling the long lulls between competitive games "crazy" and "ridiculous" in the aftermath of the quarter-final.
Expectations for Cork were so low that Kerry's 11-point victory at Páirc Uí Rinn was almost seen as a moral victory for the hosts, with Clifford remaining silent. Limerick were slaughtered in a pointless Munster final at Killarney.
In years past, an eight-point layoff from Mayo might have turned more heads, but Mayo's 2022 model was an old vehicle beaten to its last legs, missing several vital parts. In a curiously listless encounter, in which the crowd's energy seemed sapped after the Galway-Armagh epic, Kerry was slow in the first half but found his rhythm in the second as Mayo's signature energy waned.
While Clifford, limping for much of the game, was relatively subdued compared to his league final display, other Kerry players impressed, including veteran David Moran, who cut two points from midfield and their magnificent "defender" Tom O'Sullivan. , who recorded 0-03 despite wearing the No. 4 on his back.
Paddy Tally's involvement has been divisive and an affront to purists, although Kerry's entry into the goals conceded column is particularly low in 2022. In 11 league and league games this year they have conceded two goals – fewer than they dispatched in a single afternoon last August.
Optimism around Kerry's chances has mostly dampened due to the apparent revival of Dublin, which on evidence from Leinster has left its 2021 funk in the rear-view mirror.
Their rivals dared to dream that the empire was over by early spring. Dessie Farrell's side continued their anemic performance last year with four straight losses early in the league and possible relegation to Division Two, a fanciful notion not long before.
Kildare had won a historic victory over Dublin in Division 1, their first in the game in 12 years. Any idea that this would result in a championship was invigoratingly dashed in the Leinster final. By the time Con scored the fifth goal in 26 minutes, we felt foolish to think otherwise.
While most of the credit went to the returning O'Callaghan and Cormac Costello, some of the relative debutants caught the eye, including Lee Gannon, one of the league's few bright spots, and Lorcan O' Dell. Tom Lahiff looked a much improved player in 2021.
As with the first semi-final, calling it is a draw. On the RTÉ GAA podcast this week, Ciaran Whelan suggested an All-Ireland victory this year could mean more for the Dublin players than more than six straight wins, given last summer's shake-up in how far they were subsequently written off and the fact that the squad's age profile is on the rise.
"There's an unpleasantness within the camp and you feel like this one would mean something more to them," Whelan said. "
After All-Ireland's 2006 final win over Mayo, Jack O'Connor walked into the losing locker room and told them Kerry's "need" was greater. Their level of indigence in 2022 must reach critical levels. We were advised that another loss would be a disaster.
Kerry stumbled last year against a counter-attacking Tyrone side who decided to smother them. Dublin, while deadlier up front than the defending champions, are created in a different mold and their approach may be more to Kerry's liking.
The Munster champions are three years older and wiser than in 2019. Their defense looks more resolute and confident. The time has come for them to deliver.
XVs named
Kerry: Shane Ryan; Graham O'Sullivan, Jason Foley, Tom O'Sullivan; Brian Ó Beaglaíoch, Tadhg Morley, Gavin White; David Moran, Diarmuid O'Connor; Dara Moynihan, Seán O'Shea, Stephen O'Brien; Paulie Clifford, David Clifford, Paul Geaney.
Dublin: Evan Comerford; Eoin Murchan, Mick Fitzsimons, Lee Gannon; John Small, Jonny Cooper, Seán Clairon; Brian Fenton, Tom Lahiff; Niall Scully, Brian Howard, Ciarán Kilkenny; Cormac Costello, Dean Rock, Paddy Small.
We need your consent to load this content rte-playerWe use rte-player to manage additional content which may place cookies on your device and collect data about your activity. Please check their details and accept them to load the content.Manage preferences
Listen to the RTÉ GAA podcast on Apple Podcasts, Soundcloud, Spotify or wherever you get your podcasts.
Follow Dublin v Kerry (3.30pm) via our live blogs at rte.ie/sport or on the RTÉ News app. Watch live coverage on RTÉ2 and RTÉ Player with live radio commentary on RTÉ Radio 1