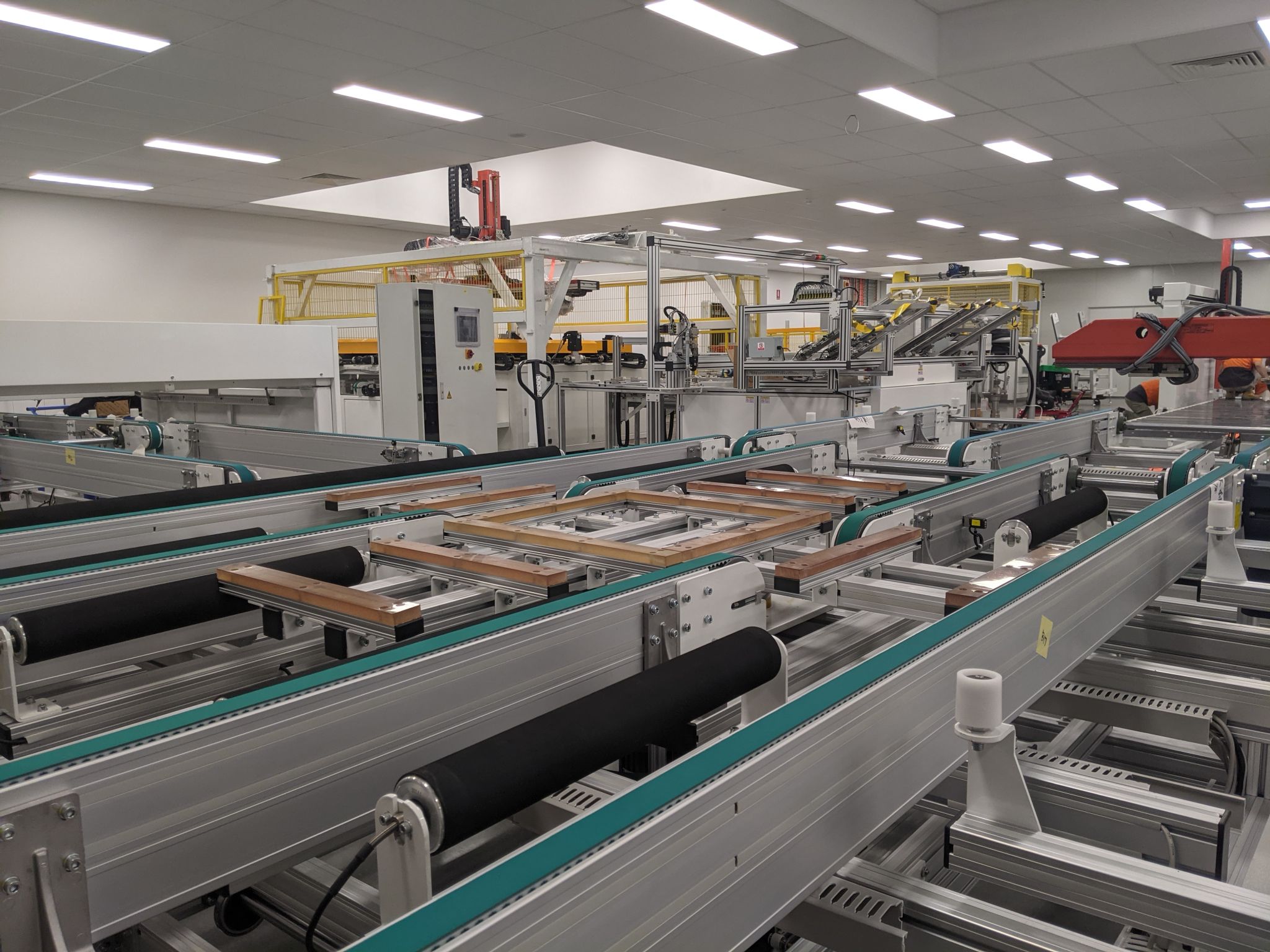 Leadership in industrial automation – Tindo Solar
[ad_1]
Today our editorial series, Leadership in factory automation, looks to an entirely new site where Tindo Solar more than doubles production of photovoltaic solar panels in a brand new factory – and installs as much automation as possible. By Peter Roberts
Shayne Jaenisch walks me through the masses of ultra-high-tech machines literally blocking Tindo Solar's new PV plant under development, muttering about the tight space between the machines.
We squeeze between the machines, all hooked up to automatic machine loaders and unloaders, conveyor belts, and the occasional buffer stack of product, and Shayne points out the newly constructed roof that had to be raised or the access door that was. blocked by a machine which came over-waist and is now only eight inches away.
The two connected production rooms are a labyrinth of cutters, rolling mills, assembly and soldering processes in a single flow process that brings together solar cells from China, frames, glass, electrical contacts and components. electronics transforming them into roof and utility-size solar panels. .
Australia's only already highly automated solar PV plant has become even more fully automated thanks to the $ 10 million committed by owner Glenn Morelli's Homeworks Group and a $ 1 million federal manufacturing modernization grant.
Momentarily baffled by my question, Jaenish looked at the ceiling, stopped, uh, and said, "What's my automation philosophy for the new factory?"
"Simply to make the highest quality panel, which operates most efficiently with a factory capable of supplying them at the lowest cost.
"Our lack of competitiveness is partly linked to the workforce.
"The new factory has twice as many robots and virtually all of the stations are automated. "
As we go through the parts, the number of manual operations boils down to a handful of visual inspections – theoretically not necessary but added to check the quality, a station where the junction boxes are welded and a station where The solder on the bus bars is heated to ensure a durable connection.
"Where we would have had 15 guys to do the panels, we now have nine. "
The new plant has a capacity to produce 150 MW of panels, a fraction of a percent of the Australian market and tiny compared to demand.
One of the many solar PV mega-projects under consideration involves 17-20 GW of panels planned for Sun Cable near Darwin, raising the question of why Australia has become so totally dependent on imports from a single country for such a vital product.
At present, Tindo's own engineers are installing the equipment as it was not possible to source engineers from overseas suppliers.
This, coupled with massive supply chain disruptions for imported components, has delayed the likely opening date of the new plant to January.
Driven by a sea change among consumers who are increasingly looking for our Australian product, Tindo is boldly attempting to reset the photovoltaic sundial.
The company recently took to the market looking for a $ 80 million to $ 150 million equity injection, or more if any of Australia's banked billionaires who spend a lot on renewables are interested.
"We have had an incredible response and there are many NDAs out there.
"We hope that someone with deep pockets and a clear vision can take what we've built and shake the hell out of the solar industry."
Tindo's vision is not just to have more Tindo factories, potentially the first in Queensland, but to invest in local production of components ranging from solar cells to glass and frames to give us a chain of local sourcing and breaking our total dependence on imports from China.
These are largely former UNSW students who returned to China to create today's leading solar PV panel manufacturers, and it is time for Australia to have its own industry, Jaenisch said.
Suddenly Tindo doesn't look so much like a model of Australian automation and entrepreneurship and enterprise – as a catalyst to start a full-fledged solar PV industry.
Photos: Tindo Solar
The @AuManufacturing Editorial Series – Leadership in Factory Automation – is brought to you with the support of Bosch Australia Manufacturing Solutions and the Innovative Manufacturing Cooperative Research Center.
Subscribe for free to our @AuFabrication bulletin here.
[ad_2]