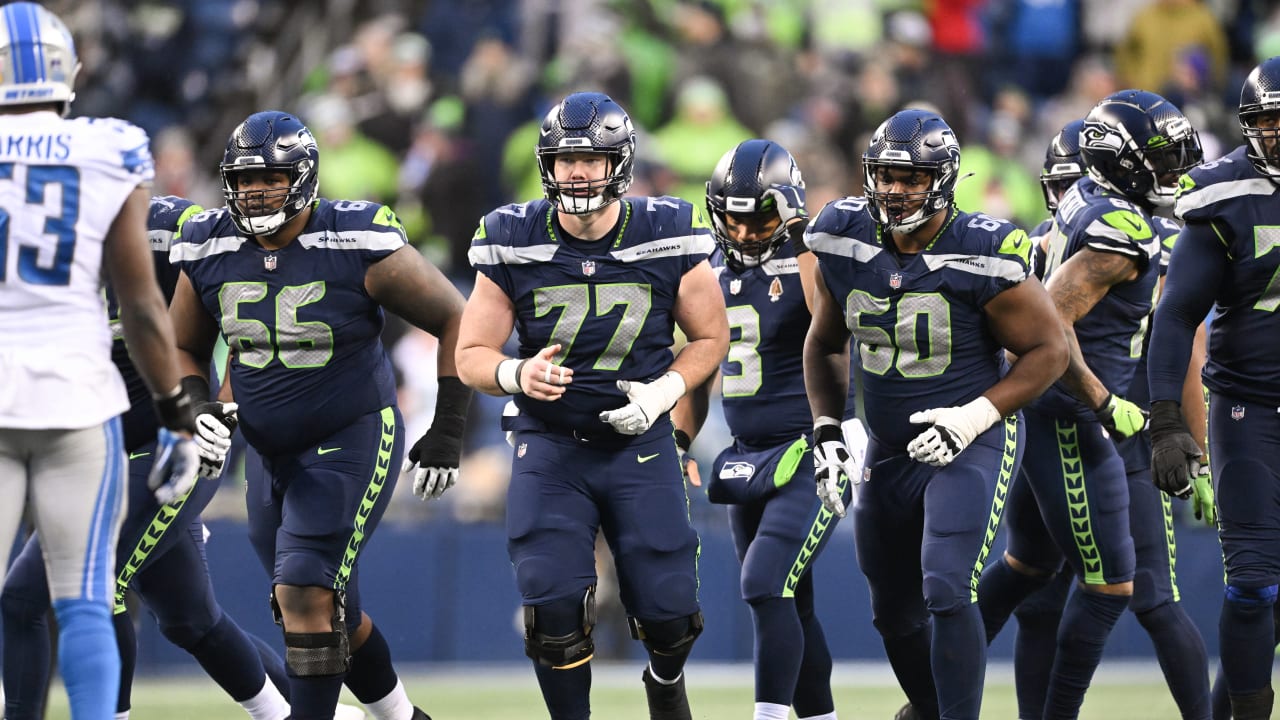 A strong day for the O-line and other takeaways from Seahawks coach Pete Carroll's Monday press conference
3. It was a very good day for the offensive line.
In general, if a team's offense is working well, there's a good chance the offensive line will play a big part in that success, and that was certainly the case on Sunday as the Seahawks won a record-breaking season. season 497 yards while rushing for a season. high of 265, the Lions recording just one sack and three quarterback hits. The fact that the Seahawks did this with two starters – Jake Curhan again replaced Brandon Shell in right tackle and Phil Haynes started in place of Damien Lewis in left guard – made the performance even more impressive.
"Phil played a really good game of football, he played physically, he was on point with his calls and his assignments, and he's a tough guy," Carroll said. "He plays a lot like Gabe (Jackson), they have very similar styles, they are really physical, have a really strong upper body and are hard to push back. He put in a good effort and he played really well. Jake has kept playing very stable football for us and he's getting more physical. He's a guy who is going to have a lot of movement when he's really confident and sure of himself in all situations, but he's playing ahead of his experience, I thinks. Mike (Solari) and Andy (Dickerson) the whole time they've been talking to him, he really understands and it makes sense to him. He can translate the identification to the line of scrimmage, the calls that are made, the demands of the next call or play, and he has no problem. He also adjusted very well, he rushed once in the game yesterday, that was important, but other than that he played a really solid football game.
"It was really visible that (the offensive line) was playing really consistent. They gave up a sack and we ran the football like crazy.) Pocic and Duane Brown got down to it. It starts there, but the whole flow was really part of the running and passing that matched each other and it was great that everyone contributed to that. I think everyone got a chance to catch the ball, run football, and everyone was involved. Russ (Wilson) did a really good job on the line of scrimmage, running and passing, and in the protection he had to do, so everyone fitted in really well . Gerald Everett played a good game, he had a great contribution. Colby (Parkinson) had a chance to do something, all receivers helped. I thought Tyler (Lockett) played particularly well blocking the pitch , he did some block keys on the big games, so there was a lot of stuff going on there. added, but it starts in advance and the guys did a really good job, and I'm really happy with the way they played. "
4. Cody Barton was impressive after replacing Bobby Wagner.
Despite being one of the Seahawks' best special teams players over the past three seasons, Cody Barton has had limited opportunities at linebacker while ending up behind Bobby Wagner and KJ Wright, and later Jordyn Brooks, on the depth chart. But with Wagner falling with an injury in the game's first defense game, Barton found himself as center linebacker, and he played well, registering seven tackles, one for a loss, as well as one pass and defended. a quarterback hit.
"He played really fast, played with confidence, he attacked the line of scrimmage really well, he attacked blockers well on the way to football, and he was the most confident he has ever been," he said. Carroll said. "It's really a big factor to play in there because you have to go, if you see things you have to go, and he did. He got involved in the passing game, he also had a few rush opportunities that he would love to have again, but overall he did a really good job. "
In addition to handling the physical aspect of the job, Barton also handled the job aspect of receiving defensive calls on the headset in his headset well and communicating with defense.
"Cody is really good at it so these guys know he can run his business," he said. "(Security) Quandre (Diggs) is still involved, he is still involved in communications, he tries to see things and help guys all the time; it's going on, but Cody has no problem with it. handle it. He called a ton of games for us in practice and stuff, and that was never a problem. He still had to go there for the first time and take over, and he did a great job. "
5. Updates on Bobby Wagner and other injured Seahawks.
As for Pro-Bowl linebacker Bobby Wagner, who left the game with a knee injury in the Lions' opener in the scrum, Carroll reiterated Monday afternoon what he said in the morning during of his weekly appearance on 710 ESPN Seattle, which is that Wagner has not suffered serious damage and will not need surgery. However, his status for Sunday's game remains in question.
"He's got a sprained knee," Carroll said. "He's swollen today, but that's not the kind of damage that would require you to have surgery. We just need to find out what the recovery time looks like and take care of him right away."
Asked about Sunday's season finale in Arizona, Carroll said, "I don't know that yet. I don't know."
In other injury news, Carroll said Carlos Dunlap II had twisted his ankle and added, "I don't know how bad it is. It wasn't terrible today. has a chance to play this week. "
Tight end Will Dissly, who left the game with a heel injury, "has a very sore heel which is an unusual injury, and we have to see how that goes in the week. We don't know yet."
Carroll said running back DeeJay Dallas, who injured his thigh on a kick return, "seemed to be doing fine, he has to figure out how he's coming back because he's done pretty well. pounding the thigh ".